Whitford's "Quality Approved Coater" for Xylan / PTFE Coating.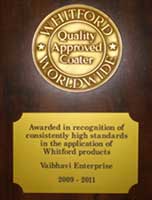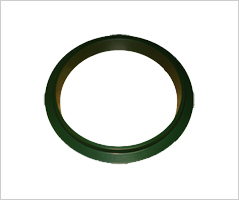 Xylan Coated Valve Ring
Since 1989 Vaibhavi Enterprises has maintained an in house coating shop. Xylan/PTFE coating can be applied for various types of applications & products. It is available in several industrial grades & colors. Our products have served customers within India and several overseas countries. We address all facts of the coating application with our goal- to provide the highest quality coated product and maintain control of the entire process. We combine these two qualities for an unusually strong presence in the market. We have priviledge of being FIRST Indian company which is been awarded Whitford's "Quality Approved Coater" certification for Xylan/PTFE coating.
---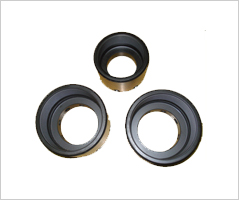 Xylan Coated S.Box Nut
What is Xylan Coating ?
Xylan is the largest, most complete line of fluoropolymer coatings in the worlds. Xylan coatings have a broad range of properties, which make them ideal for an infinite variety of applications. Xylan/PTFE coating on Bolts, Studs & Nuts is an ideal protestion in corrosive environments, salt water condition & specially for splash zone. Xylan coatings differ from traditional fluoropolymer coatings in one very important aspect: they are composite materials. Lubricants with the lowest-known coefficient of friction are combined with the newest high-temperature-resistant organic polymers. Together, they from "Plastic alloys" with unique properties:

• Low coefficient of friction : as low as 0.02.
• Superb wear resistance: even under extreme pressure.
• Outstanding corrosion and chemical resistance: in most environments.
• Wide operating-temperature ranges : from–1950C to + 2850C (-3850F to + 5450F)
• Flexible curing schedule; ambient to 4250C ( 8000F).
• Wide colour range : to Colour-code products.
• Pliability : Xylan coatings bend freely and repeatedly without breaking.
• Machineability : apply multiple coats of Xylan (most formulations) and mill.
• Excellent adhesion: to most metals, plastics, ceramics, wood, even to itself.
---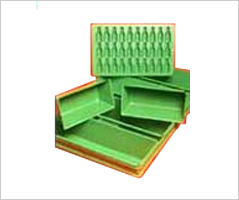 Xylan Coated Moulds
GENERAL INFORMATION
This fluorocarbon based finish, which is normally applied in a single coat, exhibits the following properties :
• Exceptional hardness at elevated temperature.
• Outstanding abrasion/Wear resistance.
• Excellent adhesion to most substrates.
• Easy application techniques.
• Good chemical resistance against a range of chemicals.
• Excellent weather resistance.
Physical & Technical Properties
Property
Units 

 Values

 Tensile Strength
 Psi
2.000 – 4.000
 Elongation
 %
 35 - 50
 Water Absorption
 %
 0.03
 Service temperature Continuous
 F
 500
 Intermittent 
 F

 575

 Dielectric Strength

V/mill 

 1.200 – 2.000
 Coefficient of Friction
 
 
 Wear Resistance (K Factor) 

 CU.in – min x 10 
 1 lb – ft – hr

6 - 8
CHEMICAL RESISTANCE
| | | |
| --- | --- | --- |
| Solvent resistance | : | Excellent. |
| Dilute cold acids | : | Good. |
| Strong Alkali  | : | To be avoided. |
| Strong detergents | :: | To be  avoided. |
| Humidity  | | Good. |
---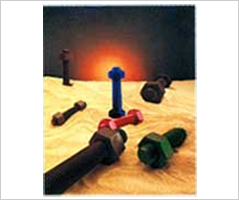 XYLAN / PTFE COATING FOR FASTENERS
Xylan coatings, particularly the formulation made with PTFE, offer a simple solution to the problem. Xylan is an excellent corrosion barrier, even if applied in a thin film. Most formulations form functional films at about 25 microns. In ASTM – B – 117 salt spray test, Xylan / PTFE coating along with suitable pre-treatment of Zinc or Cadmium provides a minimum 100 hrs. & maximum upto 4000 hrs. protection. This coating combat the severe corrosion that affect the massive studs & nuts on oil drilling rigs & petrochemicals processing equipments, as well as other items associated with the chemical processing industry. These coatings also permit the use of less expensive & stronger metal in place of stainless steel & other more exotic and costly materials.

Xylan's versatility is best demonstrated as a coating for stud bolts and nuts, where it provides unparalleled performance in ease of installation, resistance to corrosion and ease of removal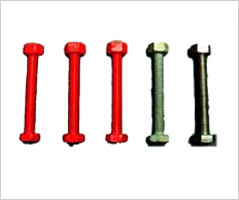 Parts as received in WSNG (L-R 3 coated parts, one phosphated part and 1 bare Substrate)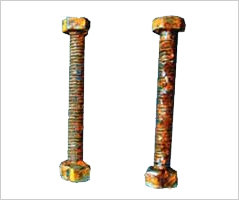 Uncoated parts after 140 hours of Salt Spray Test L-R Phosphated part and Bare Substrate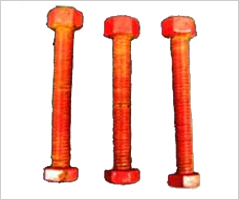 Coated parts after 1600 hours of Salt Spray Test
PTFE Fasteners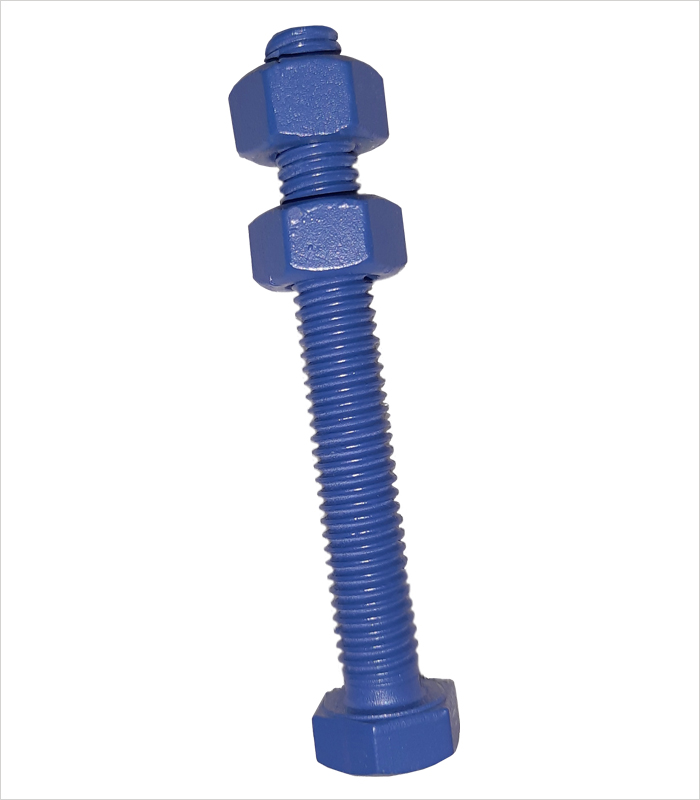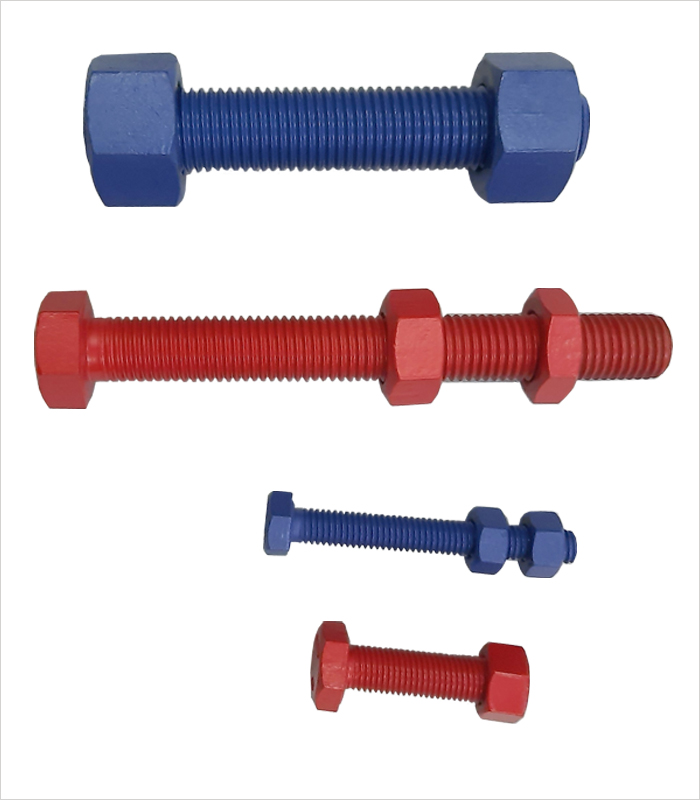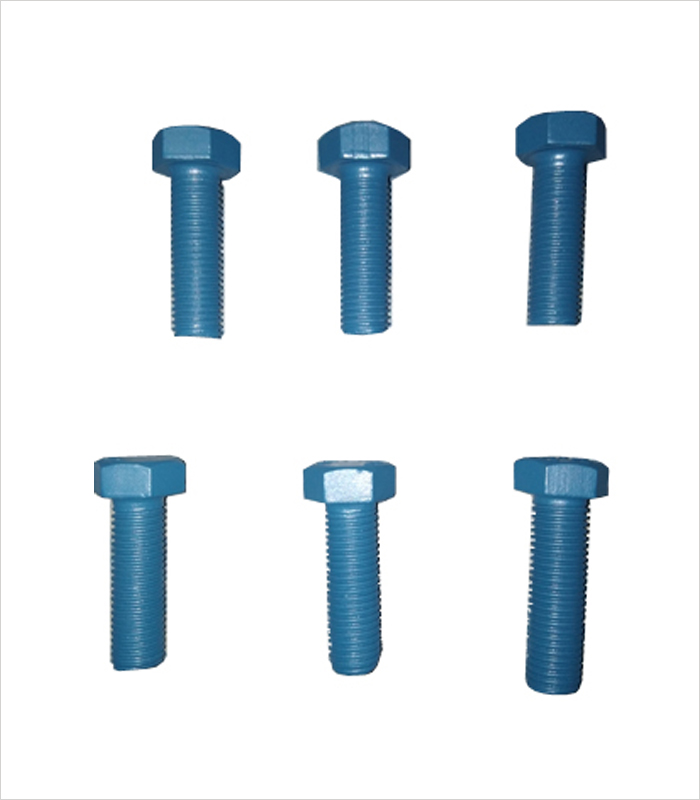 PTFE Valves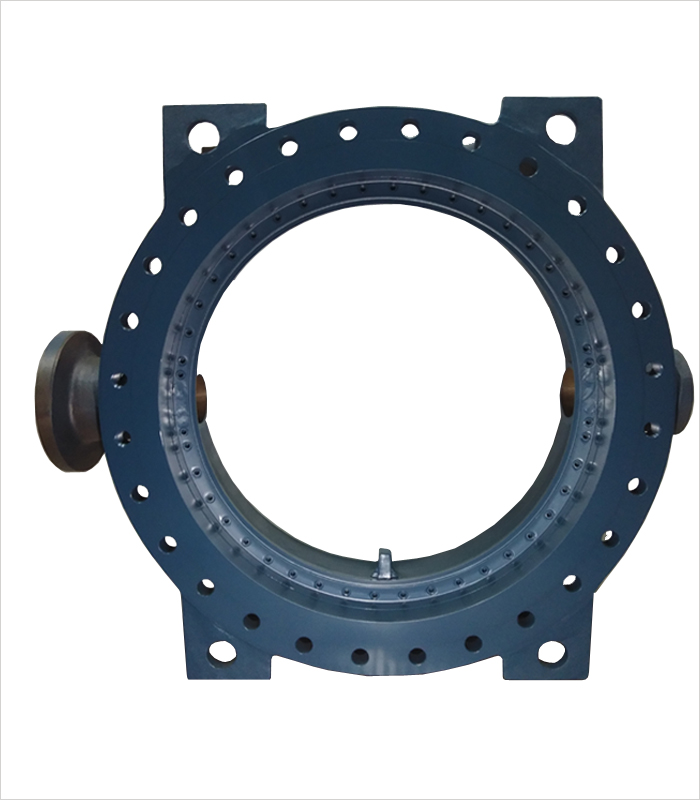 PTFE XYLAN Other Industrial Items